April, 2018
The Greatest Hits of Wanda Jaynes picked up some bronze bling with the 2018 IPPY Awards! Congrats to Breakwater authors Kerri Cull, Ted Rowe, and Pam Hall who swept the Canada East Non-Fiction category! You can check out the full list of winners here.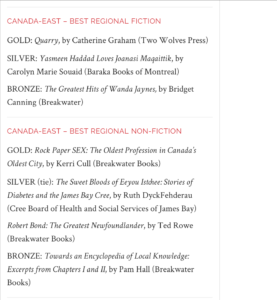 March, 2018
The Greatest Hits of Wanda Jaynes is a finalist for the Margaret and John Savage First Book Award (Fiction)! Excited to be part of the Atlantic Book Awards this year. Full list of finalists can be read here.
Congratulations to Joel Thomas Hynes on winning the BMO Winterset Award! Truly an honour to be considered with him and one of my favourite authors, Wayne Johnston. This article contains a video where Joel admits to rooting for me, which I will re-watch forever.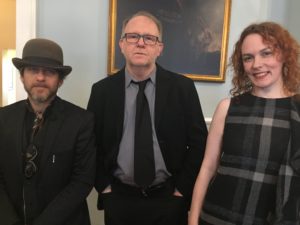 February 21, 2018:
The Greatest Hits of Wanda Jaynes is a finalist for this year's BMO Winterset Award!
From The Overcast: "This year's shortlist is composed of 3 stellar novels, by 3 very different writers: a fresh new name in fiction (Bridget Canning), a mid-career multi-hatted artist (Joel Thomas Hynes), and a literary icon (Wayne Johnston). Each author's novel is radiant for different reasons, proving that the greatest books shine through, no matter what it is that makes them shine."
Press release from ArtsNL can be found here.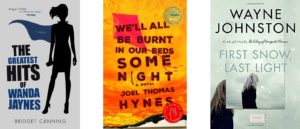 Terribly excited to be part of #NLReads this winter! The Greatest Hits of Wanda Jaynes is going up against some heavy hitters! More info here: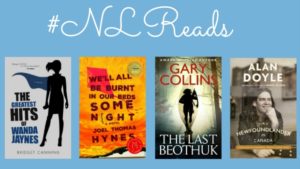 I did a fun Q&A with writer and curator Gloria Hickey. You can read it on her blog if you click right here.
Fall, 2017
I'm appearing at three literary festivals this fall: Word on the Street, Halifax, Word Vancouver, and Fog Lit in Saint John, New Brunswick. See the Events tab for details.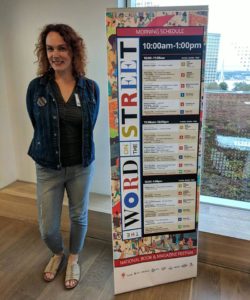 Summer, 2017
I'm busy this summer with two main projects: promoting my debut novel, The Greatest Hits of Wanda Jaynes and preparing to pitch Water from Stones at the Montreal edition of the Frontieres International Co-Production Market!